Aloha Patricia and John
"To all our friends..yoga students, beach buddies, casual acquaintances on Kauai….
You cannot imagine how much we miss you. In fact we miss just about everything from our 22 years of living on Kauai.
We have family here but we had family on Kauai too. Our beloved dog, Biggie, is depressed because his beach buddies are not here to romp with him and he has to be leashed everywhere we go. The weather is inhospitable by Kaua'i standards so he even has to wear a coat, which makes it hard for him to poop and pee, even tho he looks adorable! It rains quite a lot and the sun has yet to show it's face. The grayness is a little dispiriting.
There are saving graces of course but driving on a 6 lane highway is not one of them. I am deeply grateful that persimmons are in season right now…my favorite fruit and I am eating as many as I can. John is my rock and I am very grateful for him indeed.
Special thanks to Ihor Basko for taking care of Biggie, to Paul and Michelle.. our beach buddies, to Dede and Jim Bray, Anita and Tommy Cook, Lynne and Gary Mack, Karen Gibbons, Akiko and Dan Sargent, Hollis Church and Matt Morelock, Meg Scofield and Bob Woodcock, Juliana Grigorova and Alan Santos, Hui and Natalie, to name but a few. There are many more but I am too emotional to carry on….
We love and miss you all!"

Aloha from John and Patricia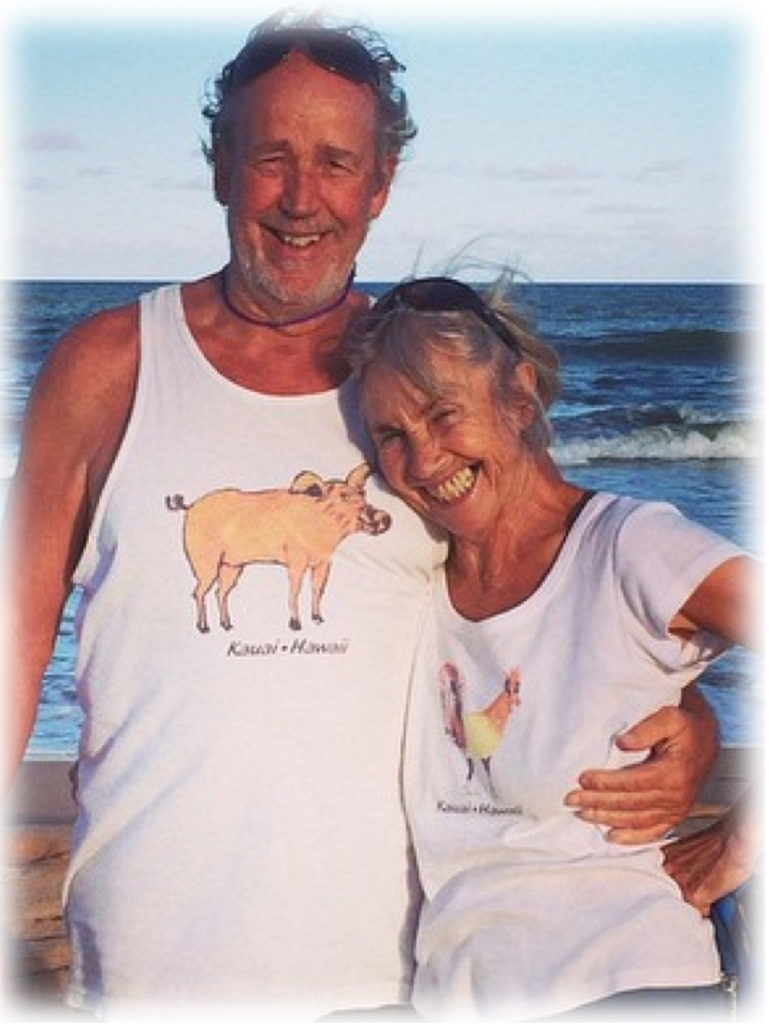 Posted by
| Paul Reynolds
Paul has been a yoga teacher on the Island of Kauai for many years and is the facilitator of the weekly Living the Question Blog - a repository of wisdom and inspiration. Paul also produces and hosts
Le Guru is You Radio Show
, showcasing everyday gurus.