American PIlgrim
" We shall not cease from exploration
   And the end of all our exploring
   Will to arrive where we started
    And know the place for the first time"
                                                                            -T.S. Eliot

We are all on a journey,  all paths unique and amazing and never the same as any other's experience here on the earth plane.
I have been  honored to witness (and read) the remembering  of one man's journey in the book;
'American Pilgrim'  An Ancient Quest in Modern Times –
Explorer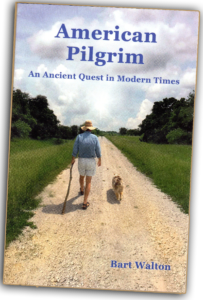 and author Bart Walton  takes the reader on an intimate recalling  of his search for the grail as he (in his words),  "was determined to grasp the coveted prize of enlightenment".
Bart's observations and discoveries are a read that imparts a simple clarity on this sometimes puzzling item called the 'spiritual journey'.
A definite recommend to both the ardent 'seeker' and those that have consciously 'embarked' on their voyage perhaps for the first time.
(click on image and /or title above to take you to the Amazon book seller)
Posted by
| Paul Reynolds
Paul has been a yoga teacher on the Island of Kauai for many years and is the facilitator of the weekly Living the Question Blog - a repository of wisdom and inspiration. Paul also produces and hosts
Le Guru is You Radio Show
, showcasing everyday gurus.