What is art? – An interview
Some time ago I had the pleasure of being interviewed for an on-line gallery/store called Red Bubble :
Red Bubble – "Paul- In your opinion, what is art?"
Me -" Art is not necessarily a 'what' – this is one of the questions like – Who am I ?- Why am I here? – What is art? is a zen koan — already my cognitive mind is being ground to dust and I am being assimilated back into the primordial – Universal -Ooze. Don't ask me that question again……I want to hang around here just a little longer."
Red Bubble –  "What inspires you in your life as of now to create?"
"a. Being born
b. Breathing
c. Long slow kisses
d Fear of Death
e. The Joy of Living
f. Cheerios about 8:30 at night.
I must stop here as I can continue this list until I am able to take the Fear of Death off the list."
Red Bubble  –  Tell us about artists you grew up with from all walks of life that you were inspired by.
Me – "God and Mad Magazine (the early years)
Now I don't want to appear trite here – but if I do – well – so be it.
But it is the best pro -noun (the God noun I mean) I can use to express that I have recognized (at this stage in my life anyway) – that everything-EVERY-thing comes to me as inspiration – whether I "like" it or not. Every stroke, every color, every nuance, shading , on any piece is an inspiration- a connection with a being or energy that has channeled it's way through me/with me onto whatever media; reaffirming my connection with everyone and everything (OOOps hold me back—slippage into he ooze again….)"
Red Bubble –  What piece of sage advice would you give a person integrating art into their lives?
Me -"First I'd ask them the more important question – What took so long? (kidding again – hey I'm a cartoonist for god's sake) Then I would just listen as they tell me how they did/are doing just that. They really need no advice from me – they are "doing" it just perfectly, the way they were meant to do it, just they way they choose to do it, just the way they were(are) destined to do it."
Red Bubble –  What do you think that being here on Red Bubble has done to add to your life as an Artist?
Me -" It continues to affirm the unfathomable, irresistible, un-containable energy of Creation. Limitless. It threatens my physical nature and my whole framework can hardly contain the Joy. (whoa big fella – stay here now)
It scares me (like a roller coaster scare) to witness such magnificence brought to form-daily,weekly, millisecond by millisecond.
Plus, I like looking at cool pictures and reading fun stuff..
Now S'cuse me I must be traveling now – the Ooze calls.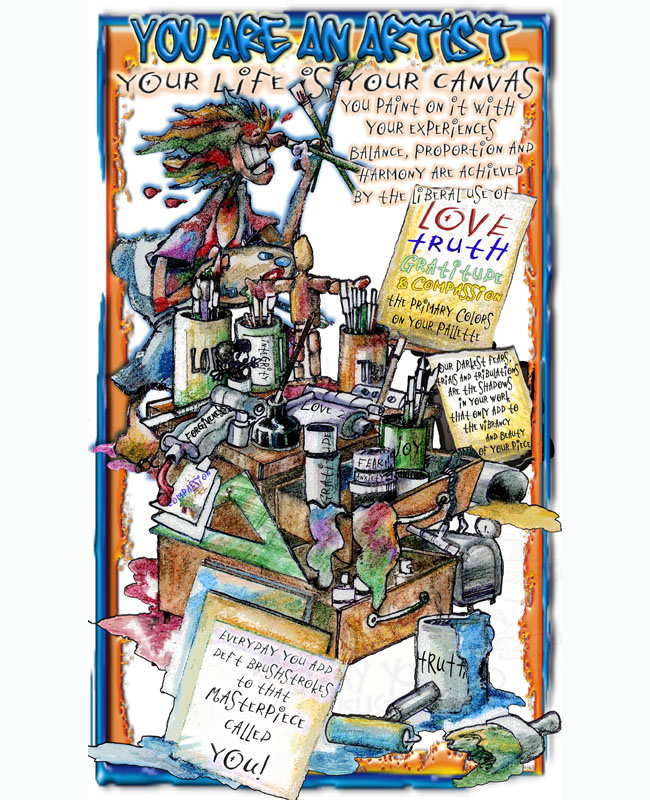 Check out the art and more on Red Bubble
Posted by
| Paul Reynolds
Paul has been a yoga teacher on the Island of Kauai for many years and is the facilitator of the weekly Living the Question Blog - a repository of wisdom and inspiration. Paul also produces and hosts
Le Guru is You Radio Show
, showcasing everyday gurus.