Are You looking for me?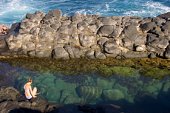 Are you looking for me?
I am in the next seat.
My shoulder is against yours.
You will not find me in the stupas, not in Indian shrine rooms, nor in synagogues, nor in cathedrals:
Not in masses, nor kirtans, not in legs winding around your own neck, nor in eating nothing but vegetables.
When you really look for me you will see me
Instantly—
You will find me in the tiniest house of time.
Kabir says: Student, tell me, what is God?
He is the breath inside the breath
— Kabir
Posted by
| Paul Reynolds
Paul has been a yoga teacher on the Island of Kauai for many years and is the facilitator of the weekly Living the Question Blog - a repository of wisdom and inspiration. Paul also produces and hosts
Le Guru is You Radio Show
, showcasing everyday gurus.