On The Day Before You Came
One of our most requested readings is a gift book!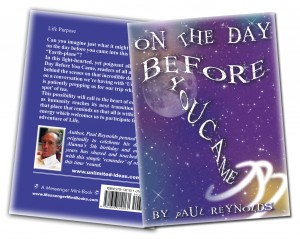 Can you imagine the conversation you had on the day before you came onto the Earth Plane"?
On The Day Before you Came takes readers of all ages behind the scenes on that incredible day,
listening in on a conversation with "Universe" who is patiently prepping us for our journey while sipping a 'spot' of tea.
A perfect gift-book for that special birthday or baby shower or just when you want to remind someone
you care about that they are in their perfect place every moment and they lovingly helped to create it all!
Purchase the

On The Day Before You

Came

Gift Book
The Mini gift-books are 24 pages – 3.5″x 5″
Softcover with black and white illustrations by Paul Reynolds.
Comes  with mailing envelope.