Be As You Are
Nobody doubts that he exists, though he may doubt the existence of God. If he finds out the truth about himself and discovers his own source, this is all that is required.
"God dwells in you, as you, and you don't have to 'do' anything to be God-realized or Self-realized, it is already your true and natural state." Just drop all seeking, turn your attention inward, and sacrifice your mind to the One Self radiating in the Heart of your very being. For this to be your own presently lived experience, Self-Inquiry is the one direct and immediate way."
Every living being longs always to be happy, untainted by sorrow; and everyone has the greatest love for himself, which is solely due to the fact that happiness is his real nature. Hence, in order to realize that inherent and untainted happiness, which indeed he daily experiences when the mind is subdued in deep sleep, it is essential that he should know himself.
For obtaining such knowledge the inquiry 'Who am I?' in quest of the Self is the best means."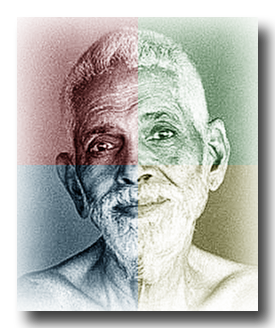 "Be As You Are"
The Teachings of Sri Ramana Maharshi
Edited by David Godman
Posted by
| Paul Reynolds
Paul has been a yoga teacher on the Island of Kauai for many years and is the facilitator of the weekly Living the Question Blog - a repository of wisdom and inspiration. Paul also produces and hosts
Le Guru is You Radio Show
, showcasing everyday gurus.