Changing ones life
Changing one's life is easy,  and there are lots of ways to go about it, though all exact some sort of price:
Pinpointing invisible, limiting, self-sabotaging beliefs — Extremely demanding on brain cells and much easier to do if you have a friend who channels the dead, but either way, it'll keep you busy for the rest of your life.
Discovering what occurrences in the past have misprogrammed you — A therapist can help, though expensive if you don't have insurance, but you can both pretend you're a complex person and that if it wasn't for your childhood, you'd have the perfect life.
Distinguishing between those who really love you and those who just wish to use you — Super tricky, and may destroy perfectly good relationships, but with a good a lawyer you can laugh all the way to the bank while accepting little or no responsibility for your own happiness.
These are just a few of the most popular and widely written-about methods.
Of course, you could also just begin imagining and moving toward the life of your dreams, treating everyone with kindness, and assuming all is well — profoundly and radically effective for both short and long-term gains, but totally lacking in drama, requires solo efforts, and is much too easy for most people to take seriously.
Oh well,
 The Universe
From A Note from the Universe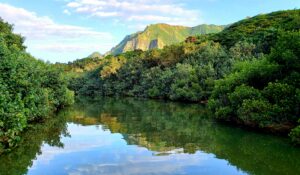 Posted by
| Paul Reynolds
Paul has been a yoga teacher on the Island of Kauai for many years and is the facilitator of the weekly Living the Question Blog - a repository of wisdom and inspiration. Paul also produces and hosts
Le Guru is You Radio Show
, showcasing everyday gurus.