Divine Feminine
"When the divine feminine, the goddess, is no longer revered, social and psychic structures become overmechanized, overpoliticized, overmilitarized.
"Thinking, judgment, and rationality become the ruling factors. The needs for relatedness, feeling, caring or attending to nature go unheeded. There is no balance, no harmony, neither within oneself nor in the external world.
"With the disregard of the archetypal image so related to passionate love, a splitting off of values, a one-sidedness, occurs in the psyche. As a result, we are sadly crippled in our search for wholeness and health."
—Nancy Qiualis-Corbett, The Sacred Prostitute: Eternal Aspect of the Feminine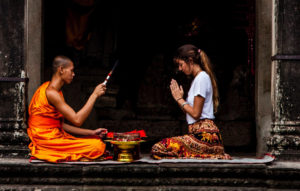 "Living without the full feminine for so many centuries, we don't know what it would be like to live within a society where the feminine voice is not repressed, women's bodies are not distorted, controlled or sold, and where both men and women live with balanced psyches.
"It's as if humanity has lived with one side of its body atrophied. The return of the feminine may be the most significant development of the new millennium. Although there have been steps to begin this process it would be naive to think the reintegration is by any means complete."
—Lama Tsültrim Allione
thank you to Robert Breszny for these finds
Posted by
| Paul Reynolds
Paul has been a yoga teacher on the Island of Kauai for many years and is the facilitator of the weekly Living the Question Blog - a repository of wisdom and inspiration. Paul also produces and hosts
Le Guru is You Radio Show
, showcasing everyday gurus.