Human only….
Caught up in a mass of abstractions, our attention hypnotized by a host of human-made technologies that only reflect us back to ourselves, it is all too easy for us to forget our carnal inherence in a more-than-human matrix of sensations and sensibilities. Our bodies have formed themselves in delicate reciprocity with the manifold textures, sounds, and shapes of an animate earth — our eyes have evolved in subtle interaction with other eyes, as our ears are attuned by their very structure to the howling of wolves and the honking of geese. To shut ourselves off from these other voices, to continue by our lifestyles to condemn these other sensibilities to the oblivion of extinction, is to rob our own senses of their integrity, and to rob our minds of their coherence. We are human only in contact, and conviviality, with what is not human.
-David Abram
The Spell of the Sensuous: Perception and Language in a More-Than-Human World
Thank you to Brain Pickings for this find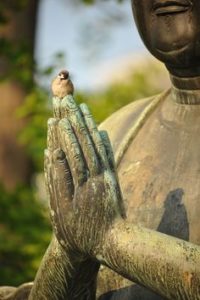 Posted by
| Paul Reynolds
Paul has been a yoga teacher on the Island of Kauai for many years and is the facilitator of the weekly Living the Question Blog - a repository of wisdom and inspiration. Paul also produces and hosts
Le Guru is You Radio Show
, showcasing everyday gurus.