I have learned not to worry about Love…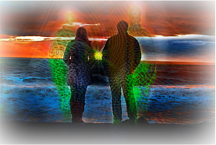 I have learned not to worry about love
but to honor its coming with all my heart.
To examine the dark mysteries of the blood with headless
heed and swirl,
to know the rush of feelings swift and flowing as water.
The source appears to be some inexhaustible spring
within our twin and triple selves;
the new face I turn up to you
no one else on earth
has ever seen.
—Alice Walker
Posted by
| Paul Reynolds
Paul has been a yoga teacher on the Island of Kauai for many years and is the facilitator of the weekly Living the Question Blog - a repository of wisdom and inspiration. Paul also produces and hosts
Le Guru is You Radio Show
, showcasing everyday gurus.