Intuition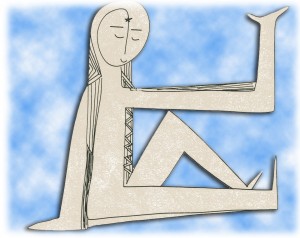 I invited Intuition to stay in my house when my roommates went North. I warned her that I am territorial and I keep the herb jars in alphabetical order. Intuition confessed that she has a "spotty employment record." She was fired from her last job for daydreaming.
When Intuition moved in, she washed all the windows, cleaned out the fireplace, planted fruit trees, and lit purple candles. She doesn't cook much. She eats beautiful foods, artichokes, avocados, persimmons and pomegranates, wild rice with wild mushrooms, chrysanthemum tea. She doesn't have many possessions. Each thing is special. I wish you could see the way she arranged her treasures on the fireplace mantle. She has a splendid collection of cups, bowls, and baskets.
Well, the herbs are still in alphabetical order, and I can't complain about how the house looks.
Since Intuition moved in, my life has been turned inside out.
Posted by
| Paul Reynolds
Paul has been a yoga teacher on the Island of Kauai for many years and is the facilitator of the weekly Living the Question Blog - a repository of wisdom and inspiration. Paul also produces and hosts
Le Guru is You Radio Show
, showcasing everyday gurus.