Le Guru is You! Radio Episode 65- Guru Patricia
Join Guru Patricia as she takes us on a ride of the definitions of this all encompassing word/energy called Love, her practice and her commitment to soul evolution and the shift changing art of 'edge walking'!
For those that would like to contact Patricia for her coaching and speaking services email her at:
Patricia@PatriciaVarley.com or phone :  (239) 248-5800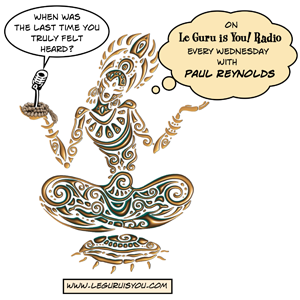 It's time for you to take on your role as Guru!
Call us today and set up an interview!
Posted by
| Paul Reynolds
Paul has been a yoga teacher on the Island of Kauai for many years and is the facilitator of the weekly Living the Question Blog - a repository of wisdom and inspiration. Paul also produces and hosts
Le Guru is You Radio Show
, showcasing everyday gurus.