Our Job
"Our job is to love others without stopping to inquire whether or not they are worthy.
That is not our business and, in fact, it is nobody's business.
What we are asked to do is to love, and this love itself will render both ourselves and our neighbors worthy"
–Thomas Merton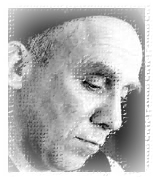 Posted by
| Paul Reynolds
Paul has been a yoga teacher on the Island of Kauai for many years and is the facilitator of the weekly Living the Question Blog - a repository of wisdom and inspiration. Paul also produces and hosts
Le Guru is You Radio Show
, showcasing everyday gurus.