Solitude
What (you might ask yourself) would a solitude be that didn't have some greatness to it? For there is only one solitude, and it is large and not easy to bear. It comes almost all the time when you'd gladly exchange it for any togetherness, however banal and cheap; exchange it for the appearance of however strong a conformity with the ordinary, with the least worthy. But perhaps that is precisely the time when solitude ripens; its ripening can be painful as the growth of a boy and sad like the beginning of spring… What is needed is only this: solitude, great inner solitude. Going within and meeting no one else for hours — that is what one must learn to attain. To be solitary as one was as a child. As the grown-ups were moving about, preoccupied with things that seemed big and important because the grown-ups appeared so busy and because you couldn't understand what they were doing.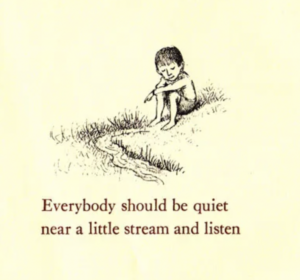 Illustration by Maurice Sendak from Open House for Butterflies by Ruth Krauss.
Thank you to the Marginalian for this find
Posted by
| Paul Reynolds
Paul has been a yoga teacher on the Island of Kauai for many years and is the facilitator of the weekly Living the Question Blog - a repository of wisdom and inspiration. Paul also produces and hosts
Le Guru is You Radio Show
, showcasing everyday gurus.