The Knowing
The memory lies in us of how it could be in a loving
relationship with one another, how it could be holy, filled with gentleness, kissed by heaven.
And that love could be extended to everyone.
There is somewhere within each of us a place where
we remember and we know. It may have become but a faint whisper today, but when we are quiet, we hear it still.
Through all the madness that has been perpetrated in the name of love, through the dysfunctional patterns and tears and fears, beneath it all lies this ancient knowing. We are not here to do battle and create a hell out of God's holy ground; we are here to love one another, to experience heaven here together.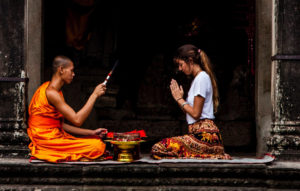 Posted by
| Paul Reynolds
Paul has been a yoga teacher on the Island of Kauai for many years and is the facilitator of the weekly Living the Question Blog - a repository of wisdom and inspiration. Paul also produces and hosts
Le Guru is You Radio Show
, showcasing everyday gurus.