The Lord's Prayer; a Direct Translation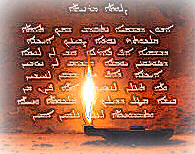 One possible translation of "Our Father" directly from the Aramaic (the language Jesus spoke) into English (rather than from Aramaic to Greek to Latin to English)
" O Birther! Father-Mother osf the Cosmos,
Focus your light within us -make it useful:
Create you reign of Unity now-
Your one desire then acts with ours,
as in all light, so in all forms.
Grant what we nee each day in bread and insight.
Loose the cords of mistakes binding us,
as we release the strands we hold
of others' guilt
Don't let surface things delude us,
But free us from what holds us back.
From you is born all ruling will,
the power and the life to do,
the song that beautifies all,
from age to age it renews.
Truly-power to these statements –
may they be the ground from which all
my actions grow:  Amen.
From the research in the Neil Douglas Klotz book Prayers of the Cosmos
Posted by
| Paul Reynolds
Paul has been a yoga teacher on the Island of Kauai for many years and is the facilitator of the weekly Living the Question Blog - a repository of wisdom and inspiration. Paul also produces and hosts
Le Guru is You Radio Show
, showcasing everyday gurus.