What is Security?
"Security is mostly a superstition –
It doesn't exist in nature
Life is either a daring adventure
…Or nothing
Unknown
(and if this one appeals to you and you'd like to inspire another with it – check it out as a card or poster or T-shirt   )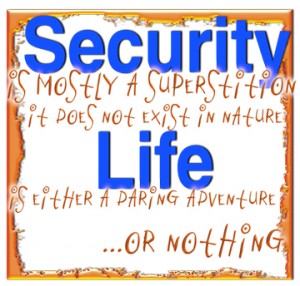 Posted by
| Paul Reynolds
Paul has been a yoga teacher on the Island of Kauai for many years and is the facilitator of the weekly Living the Question Blog - a repository of wisdom and inspiration. Paul also produces and hosts
Le Guru is You Radio Show
, showcasing everyday gurus.